Learn How Retractable Awnings Can Expand Your Outdoor Living Space
Constructing or extending a covered porch can be a viable option if you want to expand your outdoor living space but this may not be an option due to certain constraints. Fortunately, retractable awnings are an easy way to expand your backyard (or front yard) entertainment space.
Creating a Cozy Living Area
You can easily improve your quality of life and give yourself a place to relax and unwind after a long day by expanding your exterior space. A space outside your home where you can easily retreat will definitely leave you happier, and outdoor awnings are a stylish solution that can help you stay outside longer.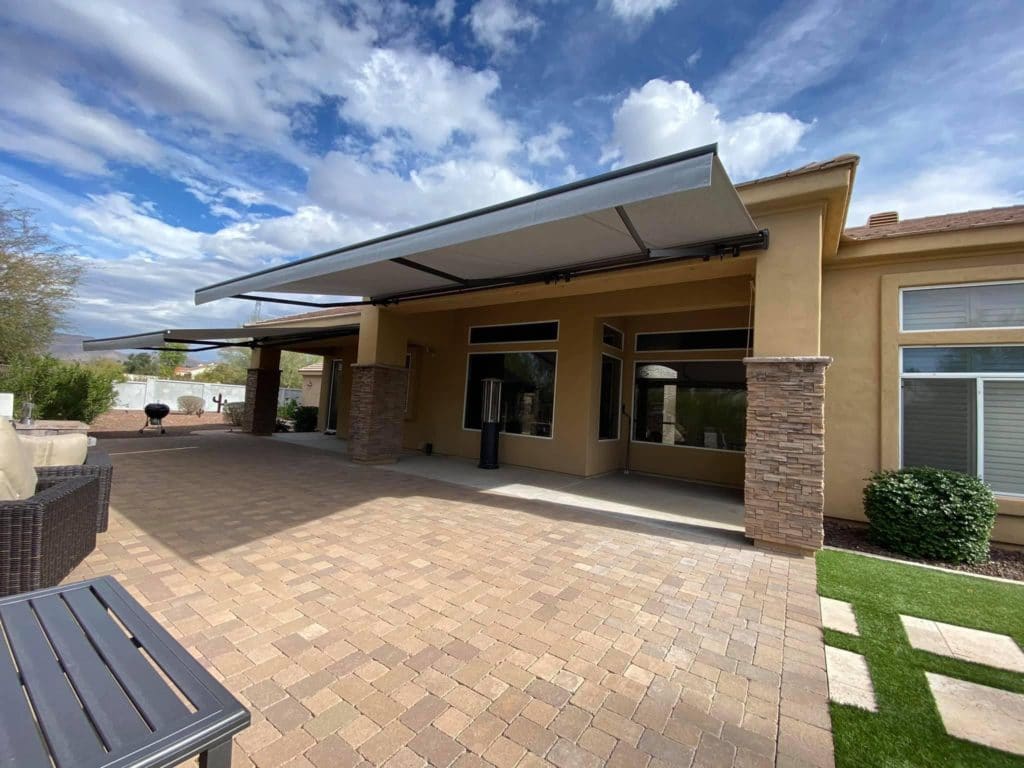 What You Can Use Retractable Awnings For
Outdoor entertainment spaces come in many forms, and retractable awnings work great for when you want to extend your living space further around your home. Here are a few common areas where you can use awnings.
Decks

– The point of decks on your yard is for you to enjoy some time right outside your home. That's why you need extra sun protection which retractable awnings can provide.

Poolside Areas – If you enjoy lounging at the poolside, awnings are definitely needed to protect you from harmful UV rays. You can spend the entire day with some company if you have awnings protecting you.
Covered Patio Substitute – If you don't have a covered patio, you're in luck! Retractable awnings can, not only be mounted to covered patio structures, but they're also great above doors, sliders, roof, and even windows — to give you more shade!
Do you need commercial shades for your business?
Benefits of Retractable Awnings
Retractable awnings are easily more versatile than fixed, standard awnings. You can extend them when you need them and retract them when you don't. 
You'll never have to worry about wind damage when you can easily retract your awning. It also helps that they are motorized. Here are a few of their benefits.
Flexibility

– You can easily have awnings set up and retracted when not needed.

Ease of Use

– Most retractable awnings are motorized and can be operated with the touch of a button.

Remote Control
Dimmable LED Lights
Why Choose Awnings from All Pro Shade Concepts?
All Pro has a vast selection of styles that you can choose from, featuring only quality motors that can easily expand or retract your awnings whenever you have them installed.
Integrated cassette housing protects awning fabric when retracted. Prevent excessive fading from weather damage, bugs, and birds, extending the life of your awning.
Custom Frame & Fabric Colors
Custom width to fit your specifications, up to 40′
All Pro's Retractable Awnings and Patio Shades
Whether you'd like to add a retractable awning or patio shades to your outdoor area, call All Pro Shade Concepts. We provide free home inspections and quotes for both residential and commercial shade installations. All Pro is The Valley's most reliable shade provider as seen on ABC 15's Sonoran Living. Get a free estimate today.
Get Shade Solutions from All Pro Shade Concepts
All Pro Shade Concepts is Arizona's most reliable shade installers. Catch us on ABC 15's Sonoran Living and see what we have to offer you. Since shade is a necessity in Arizona, we make sure to get you what you need to make your Arizona home as comfortable as possible.